A uniquely designed medical grade CO2 absorbent that contains no Alkali Hydroxide.
LoFloSorb™ eliminates the risk associated with reactions with volatile anaesthetics.
Features and Benefits
LoFloSorb™ contains no Potassium Hydroxide and no Sodium Hydroxide.
LoFloSorb™ is made of 3-4mm spheres processed to minimise potential dusting.
LoFloSorb™ offers a very stable green to violet colour change.
LoFloSorb™'s chemical formulation has been developed to provide CO
2
absorption without the need for any alkali hydroxide. It provides complete protection against the potential problems of use within the medical environment. LoFloSorb™ offers excellent CO
2
absorption, however, its duration of use will be less than Spherasorb™ or Intersorb Plus.
LoFloSorb™ has a long history of use within anaesthesia and meets all the requirements of the United States and British Pharmacopoeias.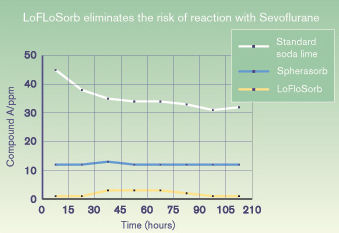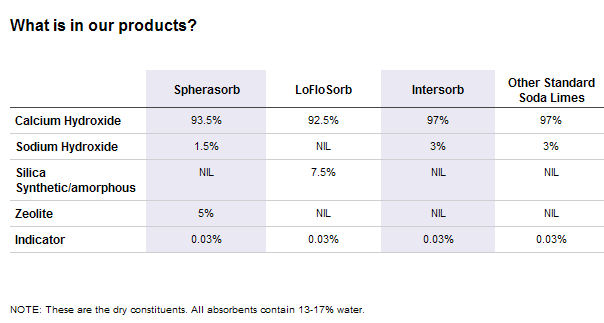 Aisys®, Avance®, Aespire®, Carestations® are all trademarks of General Electric Company. ADU® is a trademark of Datex-Ohmeda, Inc. Datex-Ohmeda, Inc., is a General Electric company. Dräger® CLIC® adapter is a trademark of Dräger Medical.